Snohomish County is providing residents with more options for getting to their destination by offering improved infrastructure used via active transportation. Benefits for the use of active transportation options include the support of mental and physical health of county residents. These active transportation options will be fiscally and environmentally sustainable throughout the county.
This is just one step in gathering feedback for the Snohomish County's Pathways for Active Transportation program.
The county is hosting this online open house to gather public feedback on their use and the status of the active transportation pathways in Snohomish County.
Feedback will also be gathered from stakeholders such as Snohomish County partner cities and advocacy organizations through in-person workshops with the county.
Input gathered from the general public and stakeholders will provide information to better enhance active transportation infrastructure especially for school walk routes, walk routes to desired destinations, cyclist routes, access to public transportation and more.
Collected data and feedback may be incorporated into the planning of future transportation projects and into the county's comprehensive plan.
County staff will use the information collected to complete a draft study this winter.
The general public and stakeholders will have a chance to review and give feedback on the draft study. A second online open house and more stakeholder workshops will be held next spring help finalize the study.
The study will be used to inform changes to the county's comprehensive plan during the 2023 update, and subsequent changes to county development regulations and design standards.
The program will ultimately make active transportation more convenient, connected and accessible.
Project Timeline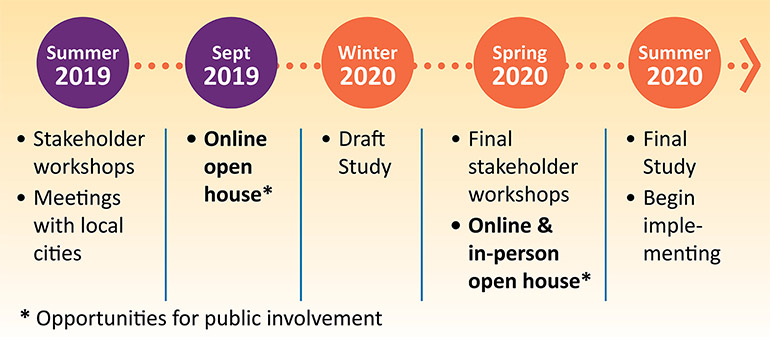 Please continue on to the Walking survey.